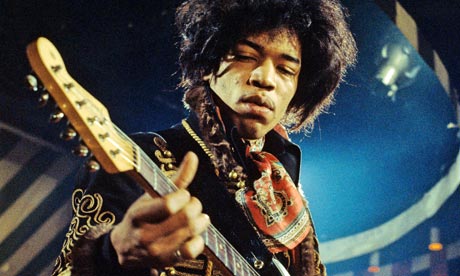 guardian.uk.co
James Marshall "Jimi" Hendrix (born Johnny Allen Hendrix) was born on November 27, 1942. He is known as one of the best guitarists in the history of rock. He is recognized as one of the most creative musicians in recent history, one of the best known musicians across all genres, and an influence to countless people in and out of the music world.
I could go into the varied and amazing, although short, muscial career, but most people know about it. Between The Jimi Hendrix Project and Band of Gypsies as well as other bands, projects and shows, he is very well known.
Hendrix received many awards in his life as well as posthumously. Included are the 1968 Billboard Artist of the Year, 1968 Performer and Rock Album of the Year from Rolling Stone and many Grammy Hall of fame awards for singles and albums.
One thing many people might not know about Jimi Hendrix is that he was essentially ochlophobic. He did not like large crowds, which was a cause for concern during Woodstock in 1969. Crowds were estimated around 400,000 people and he became nervous as his timeslot approached. At that time, he requested to be moved closer to the end of the festival and after a rain storm postponed a lot of bands, he ended up in the 8:30 am timeslot on that Monday, when only about 35,000 were still at the festival.
Hendrix died on September 18, 1970. It is very unclear what happened in his last day and even the details of his ambulance ride to the hospital are disputed, but one thing is for certain - we lost a great musician that day at the age of 27. I wasn't even a thought in my parent's mind at that time, but I know my generation missed a huge piece of musical history with the loss of Hendrix. Even today, 42 years later, Jimi Hendrix is a widely known name and is still listed as an influence for many people. Check out his official website
here
.
www.hdwpapers.com